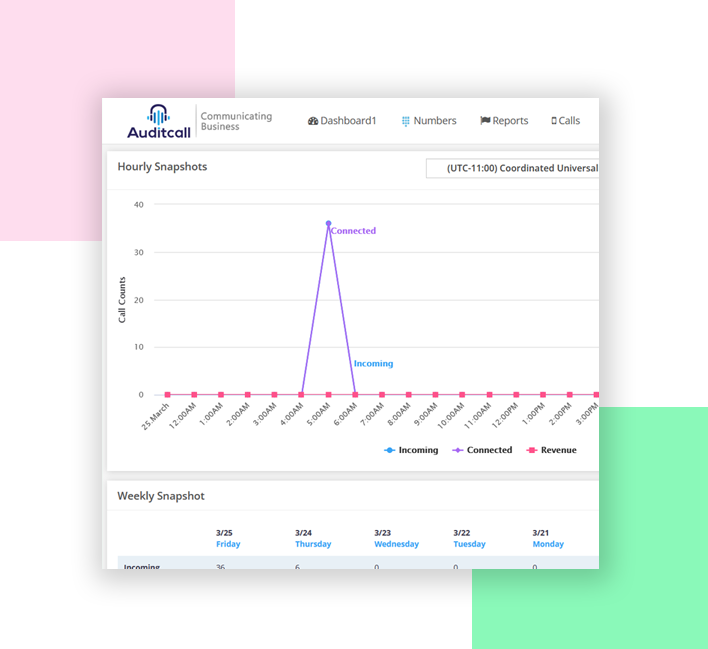 South Africa Phone Numbers Utilizing Scheduling, Reporting, and Recording
A South Africa phone number from Auditcall gives you much more than just call forwarding; our suite of Cloud-PBX features help you get the most out of your new virtual South African phone number.
Time/day scheduling means you can direct calls to different devices depending on the day and time. Delve into your intuitive South Africa phone number online dashboard, and you can access other helpful features such as reporting and recording tools. View detailed statistics about calls made to your South Africa number and listen to recordings of the calls made. It's all available in seconds thanks to our cloud-based system.
Virtual South Africa Phone Numbers with Straightforward Pricing
Our South Africa phone numbers come with tiered packages for every kind of business. From the Starter package for those investing in their first virtual South Africa phone number to High Volume for those dealing with a larger number of calls, we can help bring South African business to you. We even have a pay as you go option if you prefer.
Open late into the evenings, call our support team for expert advice on the
package
that suits your business. For those interested in the High Volume package, we'll create you a bespoke deal that brings you a South Africa number with even better rates.